TrustFire.Store
1/TrustFire GM23 Powerful&Compact USB Rechargeable 800 Lumens light for Rifles Quick Release
From Brazil clents' feedback: it fit in smaller pistols like THc,Taurus G2C and Taurus TS9,
compatible with G2C 9mm, Rex Delta 9mm, TX22
2/Product Specification
Manufacturer: TrustFire
Model: GM23
Material: 6061-T6 aluminum alloy, Type anodizing
LED: CREE XP-L HI
Size: 52*32.3*25.3mm
Max output 800 lumens, lasts 65 minutes
Waterproof: IP64
Weight: 52.7g(1.86oz)
Max. Throw: 90 meters
2025cd
Batteries:Built-in rechargeable battery
3/GM23 ULTRA-COMPACT LED LIGHT
-The GM23's compact zie 52*32.3*25.3mm and light weight 52.7g body makes it an excellent choice for concealed carry. And it won't weigh down your handgun.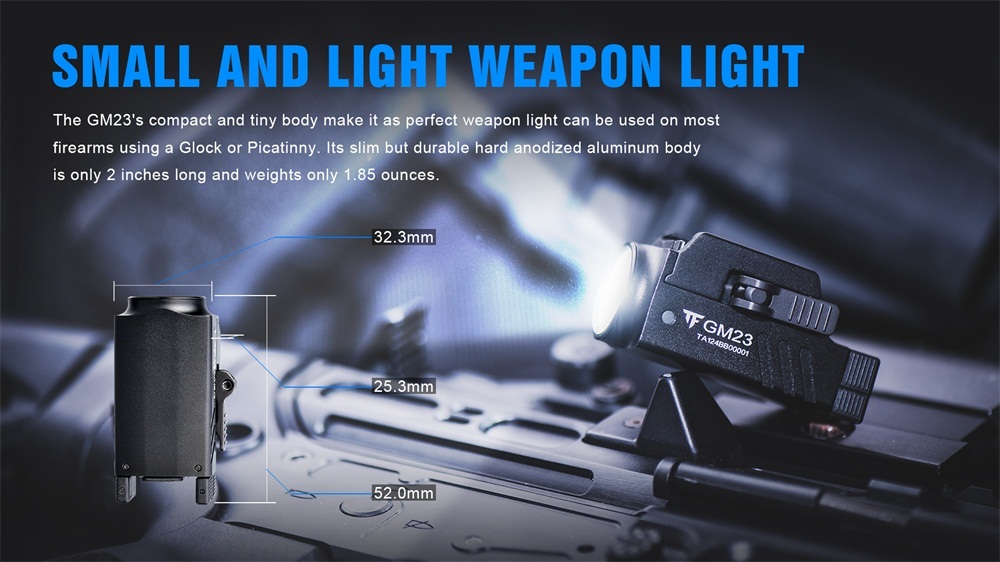 4/POWERFUL PERFORMANCE
Designed with CREE XP-L HI LED, delivers a beam up to 800 lumens with 90 meters of throw, runs 65 minutes.
5/Easy Operation-two working mode
Mode One:Daily Use Mode
On/Off: Single click either switch for constant on. Single click again to turn the light off.

Mode Two:Tactical Locking Mode
Momentary ON: Press and hold down either switch for momentary on. The light will stay on until the switch is released.

How to change the mode?
Long press any button for 5 seconds and flash five time,then it will enter into another mode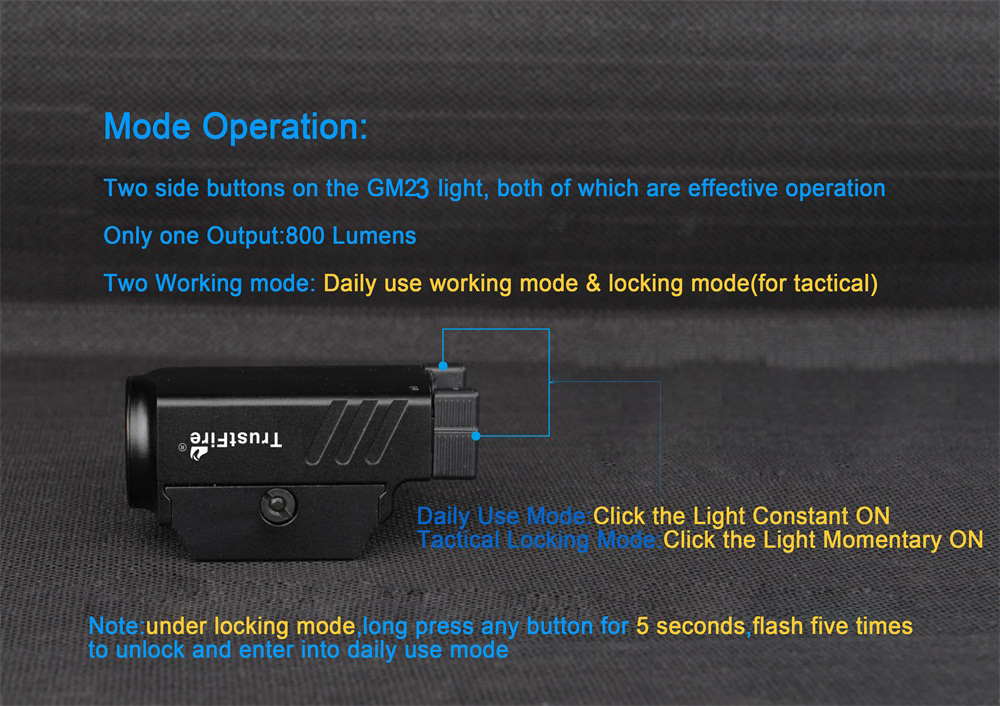 6/Quick Mount/ Detach System
-GM23 is easy to use mounting system that allows users to install and remove the weaponlight quickly.
-Included is mount adapters (1913) to attach the weaponlight to any Picatinny or Glock style rail via its swing arm mount.

7/Micro-USB Charging and Battery Indicator
-GM23 built-in lithium polymer battery that you do not need to worry about replacing batteries which can be charged easily by Micro-USB port.
-There is an indicator on the side of the light. It will turn red when battery in low power status,while it turn green when battery is fully charged.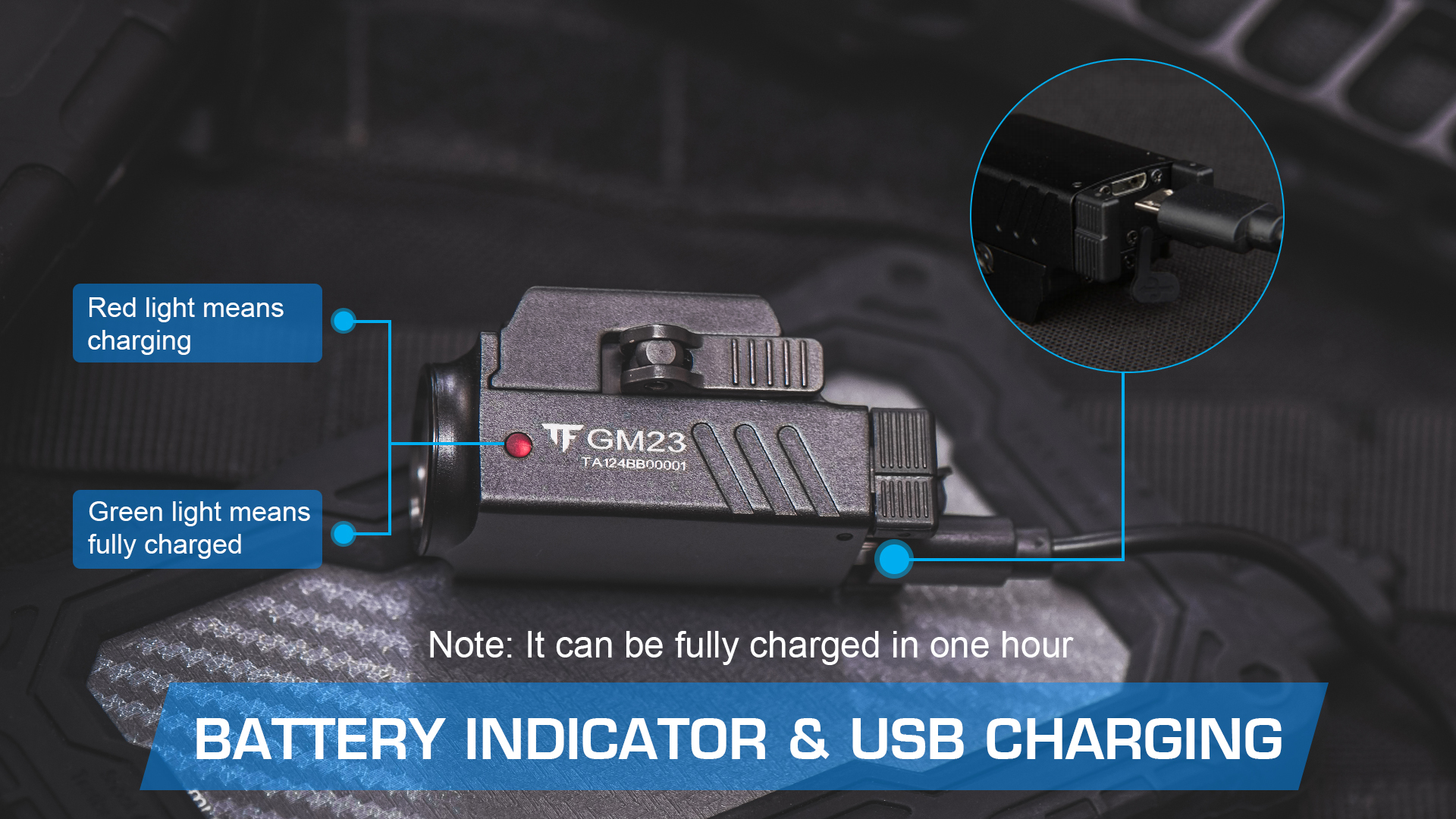 8/Fully Compatibility:
GM23 Compatiable with both Glock and Picatinny style rail mounts, including Glock 17/19/20/22/23/25/32, M*P M2.0 3.6/4.0/4.25IN, M&P M2.0 full size versions, SIG SAUER P226/P229/P320V, HK VP9 SK, CZ P10C, RUGER SR9 Air-15 and so on
From Brazil clents' feedback: it fit in smaller pistols like THc,Taurus G2C and Taurus TS9,
compatible with G2C 9mm, Rex Delta 9mm, TX22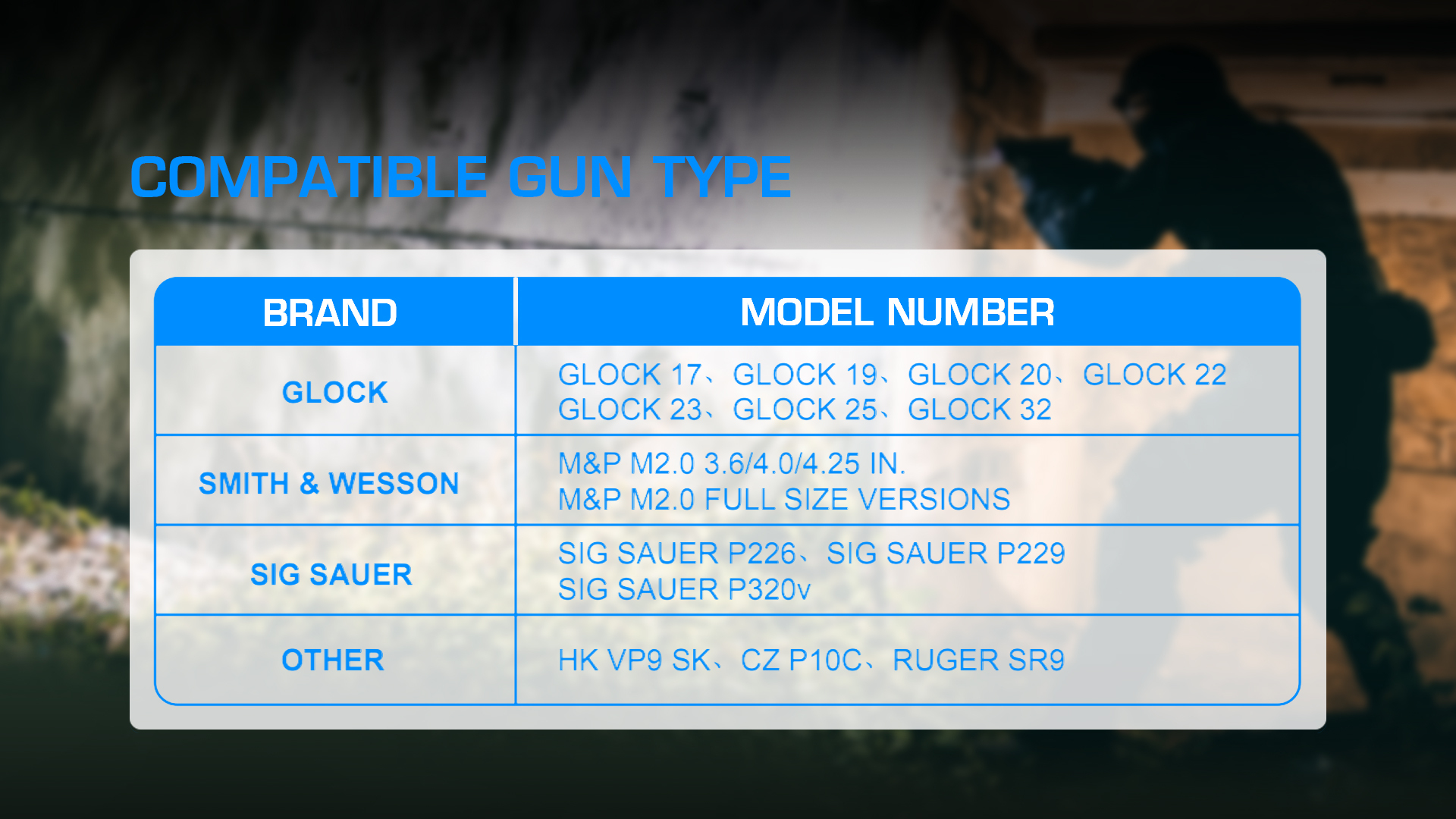 9/Optical System:GM23 use MVB ultra-thin optical lens producing MAXVISION Beam
Trustfire GM23 made with high technology: use MAX Vision Beam technology and the Lens thickness only 1.5mm,ultra-thin lens,light transmission efficiency is up to 90%
Other brands use TIR LENS and the lens thickness 10mm, ordinary lens,light transmission efficiency is less than 80%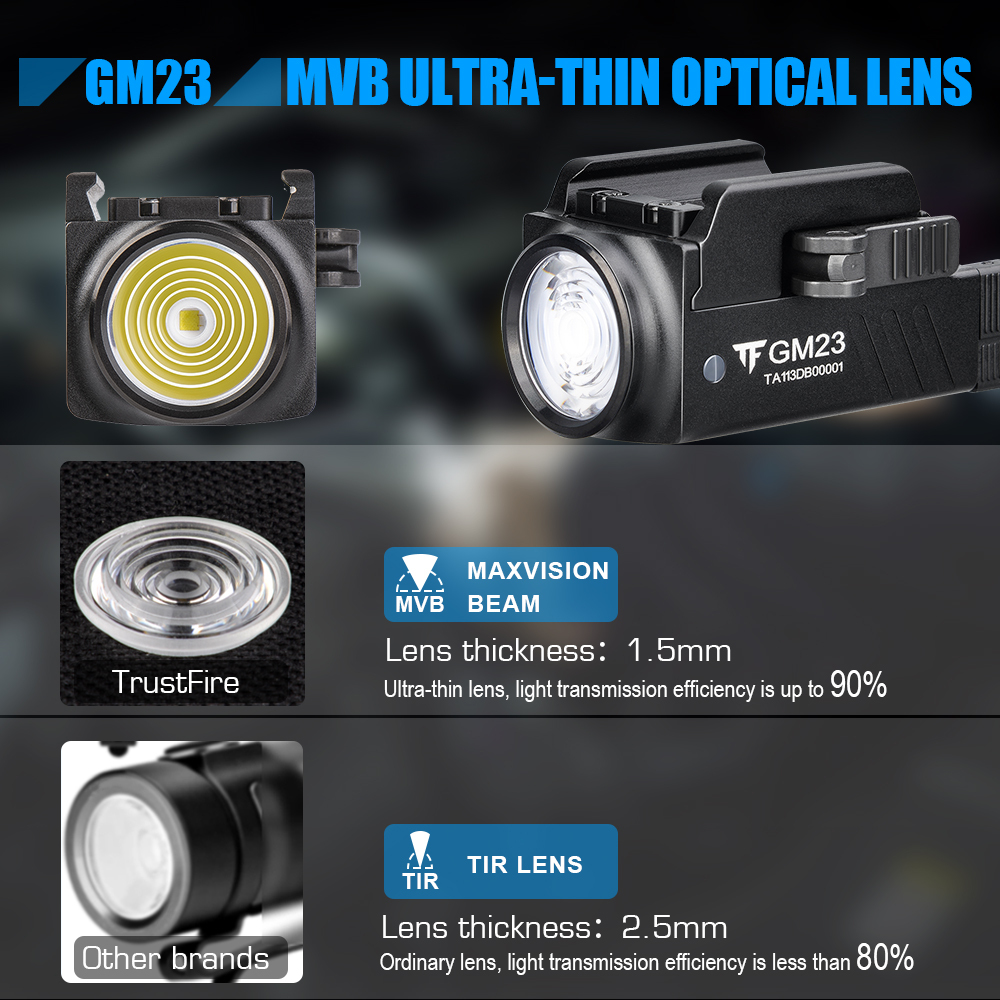 10/Trustifire GM23 output wide beam angle:170 °, Can Maximize your vision in the dark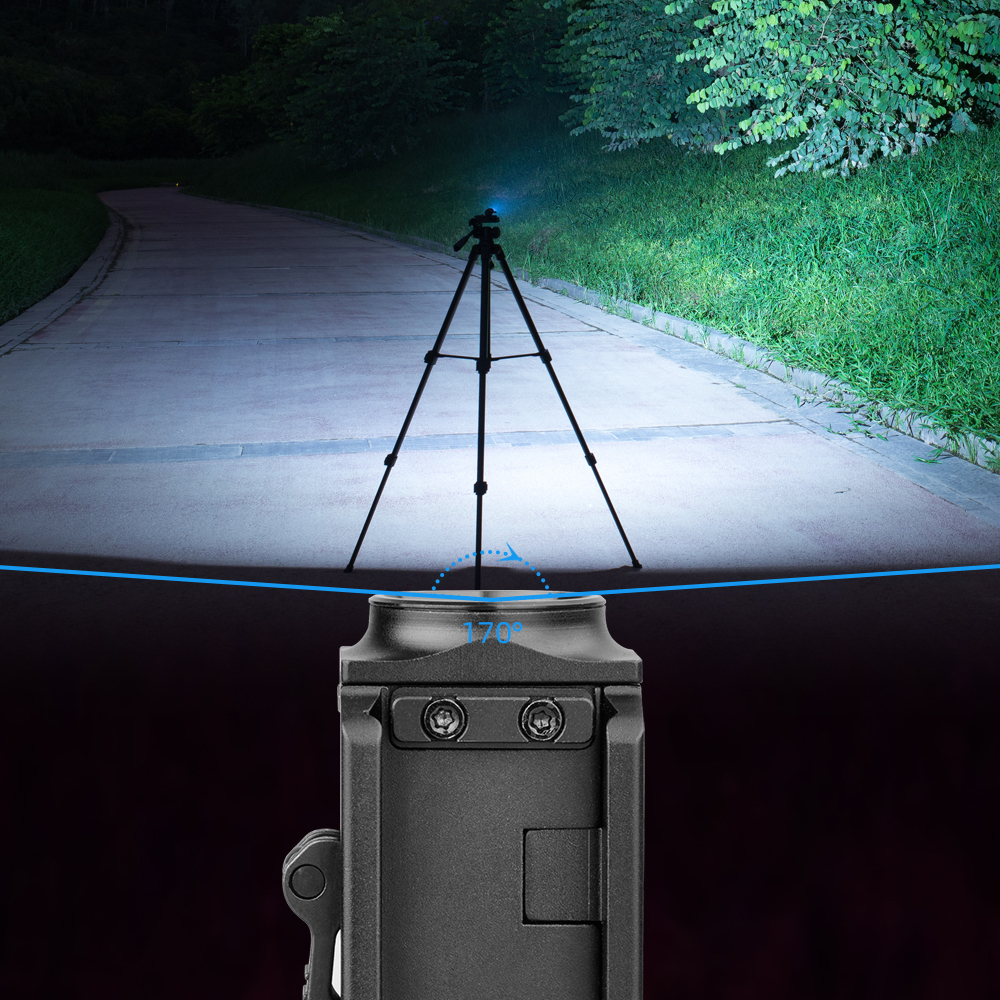 11/Application Scenarios
You can use it for night hunting,night illuminatio,night patroling, night tactical,night camping and so on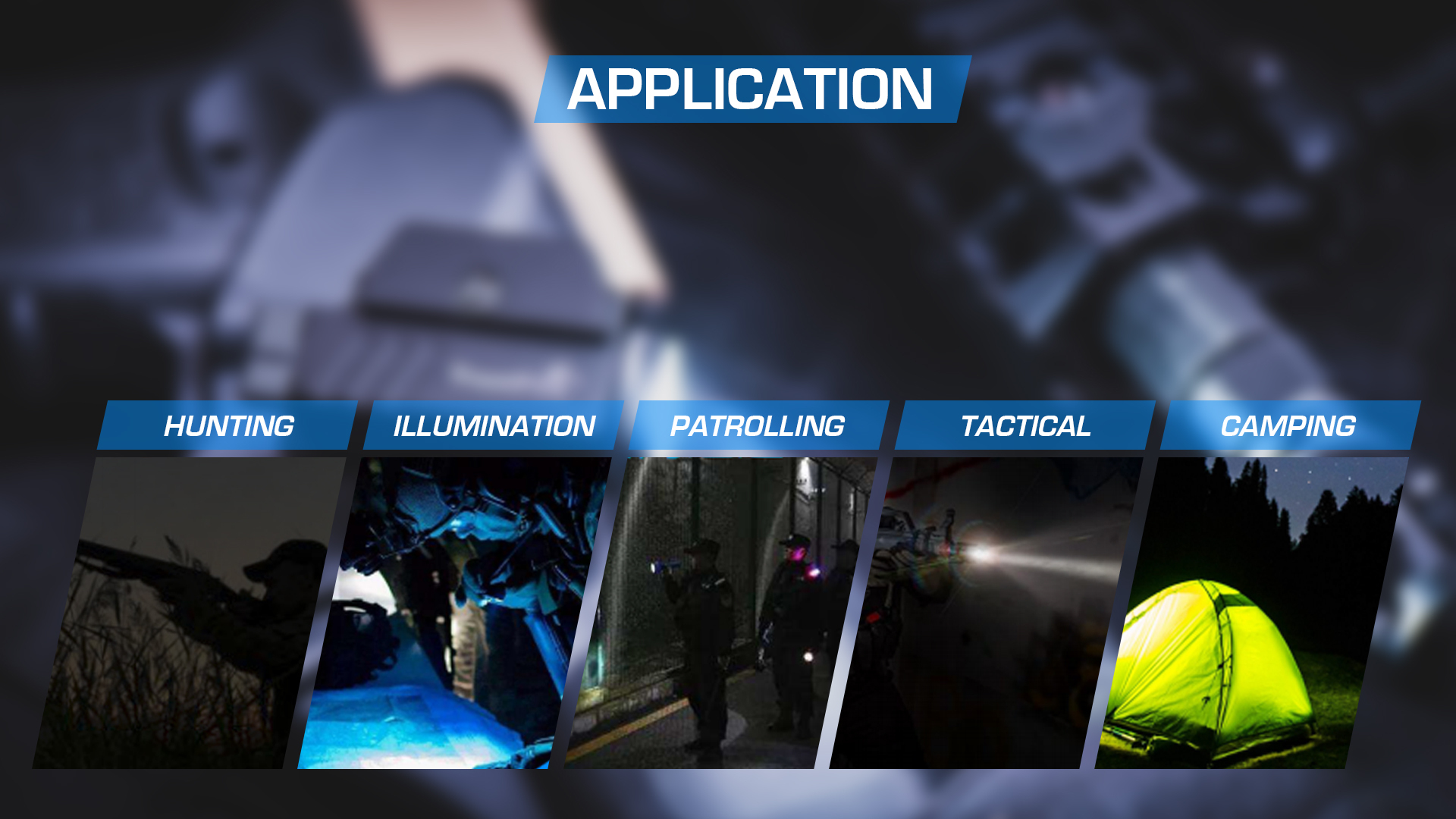 3 Years Warranty from Trustfire. Buy with confidence!
Package including
1x TrustFire GM23 with built-in rechargeable battery
1x 1913 Rail Mount (for 1913 Rail)
1x T6/T8 Socket Head Wrench
1x Micro-USB Cable
User manual x 1